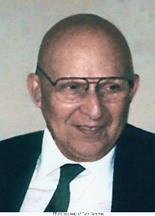 Photograph by Ruth Hammer
(Used with Permission)
On April 18th, 2008, not six months shy of his hundredth birthday, Dr Hyman Spotnitz, MMI's honorary president and staunch supporter, a founder of Modern Psychoanalysis, a mentor, supervisor and analyst to so many, died at his home in New York City.

Only weeks before, my husband, Dr. Charles Bershatsky, and I had visited him, hugged and kissed him, and told him how much we loved him. We thought we would see him again. We believed we would talk to him again. We never had the chance.

Dr. Spotnitz and Charles had a firm agreement: since both had stopped smoking cigars, they would live to be at least one hundred years of age. Dr. Spotnitz tried perhaps too hard to make that intervention a success. Now Charles and I, all the others who loved him and whom we love, all of MMI, and the entire Modern Psychoanalytic community mourn our loss and ponder the mystery of his presence found again, at last, within us, if we will but listen.